Montague WebWorks Undergoes Expansion
Local web hosting company moves into new offices, hires staff, and expands services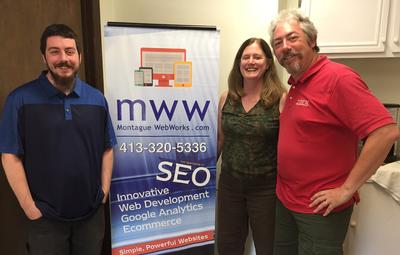 Joey Lawson, Donna DuSell and Mik Muller of Montague WebWorks
Montague WebWorks has moved to downtown Greenfield, leasing a suite of three offices and a conference room in the NESEA building at 50 Miles Street, next to the Energy Park in Greenfield.
Business Manager Donna DuSell said "This moves comes just in time. Our business is expanding rapidly and we really needed to get Mik out of our dining room. Now we have a place for employees and a bigger room for client meetings."
"It feels so good to have room to grow," said Mik Muller. "We have adequate space for everyone, and can now host our our free customer training classes onsite."
Indeed, business is booming. Montague WebWorks just contracted with the Town of Shelburne, the Turners Falls Fire District, Townline Icecream, EZ Riders of Jacksonville, VT, the Body Shoppe and Orthopedic Physical Therapy on High Street, Sassy Pants Vintage Clothing in Noho, and Press Play House DVDs, with two more website contracts about to be signed.
New hire Joey Lawson, their Production Assistant, will be creating these sites with Mik, training to take over this task. Joey commented "I'm having a lot of fun working at Montague WebWorks. I've been into website coding and design for a number of years, and it's great to be part of a busy team."
Joey comes with many years of HTML and CSS experience and is a fast learner and worker. Mik and Donna are happy to have him on board.
With addition of Joey and Donna, who now works for the firm part time, Montague WebWorks has expanded their service offerings to include site management and updating, news article writing, and marketing services.
Montague WebWorks is a Greenfield-based full service web design and hosting company, with over 300 websites in their portfolio. They look forward to continued growth and involvement in the business community of Franklin County.
Posted: to WebWorks News on Wed, Aug 1, 2018
Updated: Wed, Sep 26, 2018