Beware 'Simple Domain Host' Bill in the Mail
Customers are receiving fake Domain Name Renewal invoices from unknown company in Georgia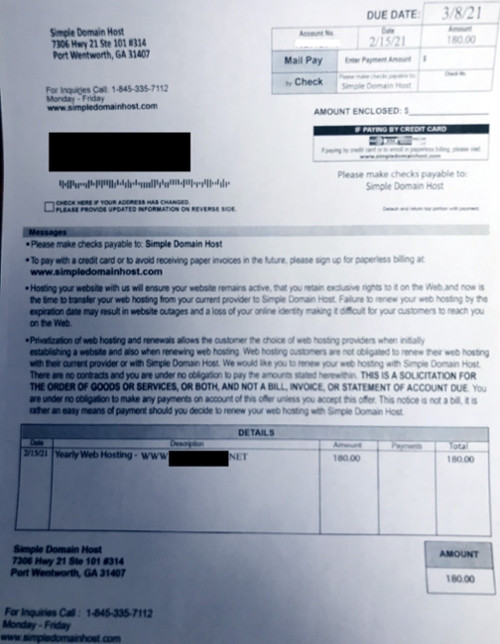 We have been getting calls and texts from multiple Montague WebWorks customers saying they've received a bill from a company called Simple Domain Host.
Make no mistake...
THIS IS A SCAM
DO NOT PAY THIS BILL
If you send them a check, you will never see that money again.
All they want to do is get money from people who aren't paying attention, knowing that some people just write checks against any bill they receive, thinking they're safe from scammers.
Doing a search on them, we found that there are 48 complaints so far at the Better Business Bureau, and other websites have posted similar warnings.
We have reported on this type of scam before. You can read those articles, here:
You can read the full text on this BS invoice, below.
Thanks, and stay safe.
Mik & Donna
----
Simple Domain Host 7306 Hwy 21 Ste #314 Port Wentworth, GA 31407
For Inquiries Call 1-845-335-7112 Monday - Friday www.simpledomainhost.com
[_] CHECK HERE IF YOUR ADDRESS HAS CHANGED. PLEASE PROVIDE UPDATED INFORMATION ON REVERSE SIDE.
Please make checks payable to: Sample Domain Host
Please make Checks payable to Simple Domain Host
To pay with a credit card or to avoid receiving paper invoices in the future please sign up for paperless billing at www.simpledomainhost.com
Hosting your website with us will ensure your website remains active, that you retain exclusive rights to it on the Web, and now the time to transfer your web hosting from your current provider to Simple Domain Host. Failure to renew your web hosting by the expiration date may resort in website outages and a loss of your online identity making it difficult for your customers to reach you on the Web.
Privatizettion of web hosting and renewals allows the customer the choice of web hosting providers when initially establishing a website and also when renewing webhosting. Web hosting customers are not obligated to renew their web hosting with their current provider or with Simple Domain Host. We would like you to renew your web hosting with Simple Domain Host. There are no contracts and you are under no obligation to pay the amounts stated herewithin. THIS IS A SOLICITATION FOR THE ORDER OF GOODS OR SERVICES, OR BOTH, AND NOT A BILL, INVOICE OR STATEMENT OF ACCOUNT DUE. You are under no obligation to make any payments on account of this offer unless you accept this offer. This notice is not a bill, it is rather an easy means of payment should you decide to renew your web hosting with Simple Domain Host.
AMOUNT
$180.00
Posted: to WebWorks News on Wed, Feb 17, 2021
Updated: Mon, Dec 6, 2021