Montague WebWorks Welcomes New Associates
MWW brings in help and expands offerings
In recent months business has been growing! In addition to adding websites, we have been working on expanding services in response to customer requests. It is an exciting time for Montague WebWorks and we are pleased to announce the addition of the following associates to the company...
Graphic Design: Greg Aubin
Montague WebWorks has partnered with Greg Aubin at Sign Design Expert to assist with new website designs going forward, and help freshen up or redesign existing websites upon customer request (call Mik for details).
Greg, located in Greenfield, MA, has been involved in customer-managed websites for 10 years and sign design for over 25. His approach is respectful to content and assures clarity and simplicity for the user.
Greg's identity management solutions include logo creation and consistent application branding across platforms and media. His signage experience offers our customers expertise in trade show displays, banners, way-finding and building organizational signs, as well as general business sign needs. Greg can be reached at www.SignDesign.expert and 413-824-6221.
Content Writing and Editing: Debora Savage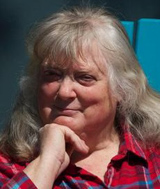 Additionally, we have partnered with Deborah Savage to assist with new website content or updating/editing and news writing of existing sites.
Deborah, located in Montague Center, offers professional writing services essential for publicizing and promoting your business, including website text, newsletters, product and service descriptions, publicity articles and press release text.
Deborah can help you with the often daunting task by brainstorming with you, discussing your needs and working from notes and outlines to produce text that is professional, attention-grabbing, and free of typos.
Deborah's work combines the technical skills and qualifications of an instructor in college writing with the creativity of an award-winning novelist. She has taught English and college writing for over twenty-five years and is the author of seven published novels. To learn more about her work and qualifications, visit her website at www.DeborahSavage.net or call her at 413-367-0134.
Going Forward!
If you are looking to have your current website redesigned, and / or rewritten, contact Mik and he'll set you up with one or both of these fine folks to start the process.
It's an exciting time here at Montague WebWorks with many new website projects brewing; the printed spiral-bound Tips & Directory coming out in December; and our 200th RocketFusion website on the horizon... it's all good. 2014 is already our best year yet, and we look forward to working with you for many more.
Thanks for being a customer.
Mik
Posted: to WebWorks News on Mon, Nov 3, 2014
Updated: Wed, Nov 5, 2014