MWW Anniversary Party
Books have been mailed. Our anniversary party is this week!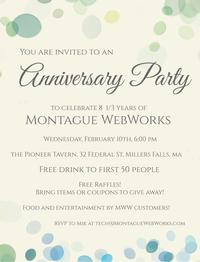 Using our local bulk mailhouse Adams Direct Mail on Elm Street in Greenfield, Montague WebWorks mailed out our Deceber 2015 edition of the MWW Web Tips & Tricks book to over 200 clients. You may have received yours by now. In the mailer you'll find a copy of the book, a letter, and two invitations.
One of the invitations is to our 8 1/3 Anniversary Party. Yes, Montague WebWorks turned eight years old this past October, and we've been so busy that we're only now getting around to celebrate.
The party will be held at the Pioneer Tavern in Millers Falls this coming Wednesday, February 10th, from 6:00 PM to 9:00 PM, and should be a lot of fun!
Free food, including pulled pork sandwiches by Cliff's Smoking Backyard BBQ
A free drink to the first 50 people through the door
Square dancing by Bachelder Square Dances
...and a raffle (if customers bring things to raffle), which includes a free year of RocketFusion website hosting (up to a $240 value).
I hope to see you there! And remember, if you have something to put into the raffle, that would be great. Certificates or coupons for services, etc., or even fun bling!
More details here on the calendar.
Please RSVP if you are coming.
Posted: to WebWorks News on Thu, Feb 4, 2016
Updated: Wed, Feb 10, 2016